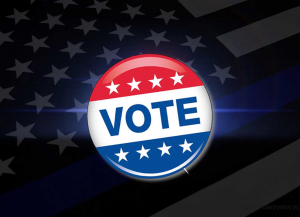 United States Senate
On October 23, the WPPA's endorsement of U.S. Senator Tammy Baldwin in her reelection campaign was announced.
"Every day, Wisconsin's law enforcement officers risk their lives to keep our communities safe, and Tammy Baldwin has proven that she has our backs," said Jim Palmer, Executive Director of WPPA. "Tammy Baldwin is a champion and valued friend of our law enforcement community because of her bipartisan work to make sure we have the funding we need to hire and train more officers, the safety equipment necessary to protect our lives, the support to better combat the opioid crisis, the quality health care every officer deserves, and the right to negotiate fair pay for those who put their lives on the line."
"Every Wisconsinite deserves to live in a safe and secure community, and I am honored to have the support of the Wisconsin Professional Police Association," said U.S. Senator Tammy Baldwin. "Together, we're pushing Washington to work for Wisconsin's law enforcement officers so that they have the tools and resources they need to combat the opioid epidemic, protect our neighborhoods and keep Wisconsinites safe."
Founded in 1932, the WPPA represents over 10,000 members from nearly 300 local association affiliates, making it Wisconsin's largest law enforcement group. WPPA Executive Director Jim Palmer also currently serves on the executive board of the National Association of Police Organizations (NAPO).
The WPPA takes a non-partisan approach to assessing legislation that affects public safety and impacts law enforcement officers. Both of the 2018 WPPA Legislators of the Year are Republicans currently serving in the state legislature.
Tammy Baldwin has received the WPPA endorsement in the U.S. Senate race for her bipartisan leadership in:
Securing Funding to Hire and Train Officers: As a member of the U.S. Senate Appropriations Committee, Tammy Baldwin has secured millions for the Community Oriented Policing Services (COPS) Hiring Program and Byrne Justice Assistance Grants (Byrne-JAG), passing the bill out of committee.
Increasing Federal Support for Safety Equipment: Tammy Baldwin successfully increased the funding set for next year's federal Bulletproof Vest Partnership (BVP) program, which has already equipped American public safety officers with over one million vests, passing the bills out of committee.
Empowering Law Enforcement to Better Combat Opioid Crisis: Tammy Baldwin helped pass bipartisan legislation in the U.S. Senate to increase funding for local prevention programs, prevent the flow of fentanyl into America and enhance enforcement programs, including the Drug Free Communities program, the High Intensity Drug Trafficking Areas
(HIDTA) program, the Drug Courts program, and the COPS Anti-Methamphetamine and Anti-Heroin programs.
Standing Up for Quality Health Care Plans: Joining with Republicans and Democrats, Tammy Baldwin has supported bipartisan plans to repeal the "Cadillac tax" on quality health care plans negotiated by police officers across the country.
Protecting the Right to Negotiate Better Wages: Tammy Baldwin authored the Public Safety Employer Employee Cooperation Act, which would give officers a stronger voice to improve working conditions and get the resources they need to most effectively serve the public. Tammy's bill is supported by the WPPA, as well as the Milwaukee Police Association, Wisconsin Law Enforcement Association, Fraternal Order of Police (FOP), National Association of Police Organizations (NAPO), and International Union of Police Association (IUPA).
Wisconsin Attorney General
Also announced on October 23 was the WPPA's endorsement of our Attorney General Brad Schimel's re-election campaign.
"For our organization, the choice was clear," said WPPA Executive Director Jim Palmer. "After four years leading the Wisconsin Department of Justice, Brad Schimel has once again earned the support of our board of elected officers from all across the state because they've seen Attorney General Schimel's commitment to ending the sexual assault kit backlog, fighting opioid and meth abuse, and focusing on the wellness of the brave men and women on the frontlines of law enforcement. Attorney General Schimel's qualifications are second to none, and we are proud to join the bipartisan group of more than 110 elected sheriffs and district attorneys in support of his re-election campaign."
WPPA, Wisconsin's largest law enforcement group, represents nearly 10,000 of Wisconsin's frontline law enforcement officers from more than 300 local association affiliates.
"Brad Schimel is law enforcement's choice for attorney general because they know he is a champion of public safety, not politics," said Schimel Campaign Manager Johnny Koremenos. "The men and women who keep our streets safe, those who know the job best, are overwhelmingly backing Brad Schimel for Attorney General because they trust his impartial, independent commitment to public safety and justice for Wisconsinites."
Brad Schimel became a prosecutor in the Waukesha County District Attorney's office after serving as an intern there during law school. Throughout his nearly 25-year career in Waukesha, the largest portion of which was spent in the sensitive crimes unit, Brad Schimel earned a reputation as an aggressive and tough prosecutor, handling thousands of cases and more than 150 jury trials. Schimel's caseload included elder abuse, human trafficking, homicide, sexual assault, drunk driving, internet crimes against children, public corruption, and one of the nation's first sextortion cases.
Schimel faces activist Josh Kaul in the General Election. Whereas Brad Schimel has a nearly three decades long, distinguished career as a prosecutor in this state, Josh Kaul has never prosecuted a criminal case in Wisconsin. Not one, ever. Whereas Schimel has a broad, bipartisan coalition of Wisconsin supporters, Kaul is funded and supported by state and national partisan activists.
As Attorney General, Shimel has also prioritized preventing Internet crimes against children and violence against women. Under Schimel, Wisconsin is a national leader in the fight against human trafficking. Together with a coalition of Attorneys General from across the country, Brad Schimel has led numerous lawsuits challenging overreach by the federal government that would cripple the economy and hurt Wisconsin families.
Brad Schimel's determined, yet compassionate, record on criminal justice has earned him the support of 64 of Wisconsin's 72 sheriffs and 50 of Wisconsin's 71 district attorneys, including 21 elected Democrats who appreciate the breadth, depth, and nonpartisan nature of the Republican Attorney General's experience.
The Wisconsin Legislature
On October 19, the WPPA issued its legislative endorsements of candidates in the November 6 elections. The endorsements were made by the organization's board of directors, which consists of rank-and-file officers from across the state. In making these determinations, the WPPA evaluated each of the candidates using questionnaires and the organization's cumulative legislative report card.
"As Wisconsin's largest law enforcement group, the WPPA's mission is to protect public safety, as well as the interests of the dedicated men and women that serve to provide it," said WPPA Executive Director Jim Palmer. "After closely considering the races for the state legislature, we are confident that we are supporting the candidates that support our officers and their service to our communities."
Wisconsin State Senate
District 1: André Jacque (R)
District 3: Tim Carpenter (D)
District 9: Kyle Whelton (D)
District 15: Janis Ringhand (D)
District 17: Howard Marklein (R)
District 21: Van Wanggaard (R)
District 23: Kathy Bernier (R)
District 25: Janet Bewley (D)
District 27: Jon Erpenbach (D)
District 29: Jerry Petrowski (R)
District 31: Jeff Smith (R)
Wisconsin State Assembly
District 1: Joel Kitchens (R)
District 2: Shae Sortwell (R)
District 3: Ron Tusler (R)
District 4: David Steffen (R)
District 11: Jason Fields (D)
District 13: Dennis McBride (D)
District 14: Robyn Vining (D)
District 15: Joe Sanfelippo (R)
District 22: Janel Brandtjen (R)
District 23: Jim Ott (R)
District 24: Daniel Knodl (R)
District 25: Paul Tittl (R)
District 27: Tyler Vorpagel (R)
District 28: Kim Butler (D)
District 30: Shannon Zimmerman (R)
District 31: Amy Loudenbeck (R)
District 33: Cody Horlacher (R)
District 34: Chris Meier (D)
District 35: Mark Martello (D)
District 36: Jeffrey Mursau (R)
District 37: John Jagler (R)
District 38: Melissa Winkler (D)
District 39: Mark Born (R)
District 41: Joan Ballweg (R)
District 43: Dan Vruwink (D)
District 44: Debra Kolste (D)
District 45: Mark Spreitzer (D)
District 46: Gary Hebl (D)
District 47: Jimmy Anderson
District 49: Travis Tranel (R)
District 50: Tony Kurtz (R)
District 51: Todd Novak (R)
District 52: Jeremy Thiesfeldt (R)
District 53: Michael Schraa (R)
District 54: Gordon Hintz (D)
District 55: Mike Rohrkaste (R)
District 56: Dave Murphy (R)
District 58: Dennis Degenhardt (D)
District 60: Robert Brooks (R)
District 62: John Lehman (D)
District 64: Peter Barca (D)
District 65: Tod Ohnstad (D)
District 69: Bob Kulp (R)
District 71: Katrina Shankland (D)
District 72: Scott Krug (R)
District 74: Beth Meyers (D)
District 75: Romaine Quinn (R)
District 78: Lisa Subeck (D)
District 79: Dianne Hesselbein (D)
District 80: Sondy Pope (D)
District 82: Ken Skowronski (R)
District 83: Chuck Wichgers (R)
District 85: Patrick Snyder (R)
District 86: John Spiros (R)
District 87: James Edming (R)
District 88: John Macco (R)
District 89: John Nygren (R)
District 91: Jodi Emerson (D)
District 92: Treig Pronschinske (R)
District 93: Warren Petryk (R)
District 94: Steve Doyle (D)
District 95: Jill Billings (D)
District 96: Paul Buhr (D)
District 97: Scott Allen (R)
District 99: Cindi Duchow (R)
* * *
With over 10,000 members from almost 300 local association affiliates, the WPPA is Wisconsin's largest law enforcement group.