New Statutory Rules for Agencies
Using Body-Worn Cameras
Wis. Stat. § 165.87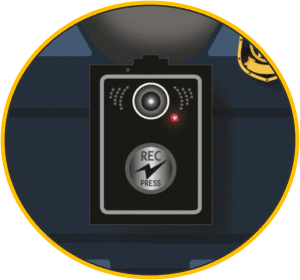 On February 28, Gov. Tony Evers signed into law bipartisan legislation establishing uniform regulations and guidelines for the use, maintenance, and storage of body-worn cameras and the data they collect. The result of a multi-year lobbying effort by law enforcement, open records advocates, privacy advocates, and others, the new law went into effect March 1.
WHAT IT DOES:
Specifically, the new law provides for the following:
1. Written Policies: Any agency using body-worn cameras must administer a written policy that explains which officers will be wearing body cameras, how they will be used, and how the video will be retained. These policies must be made publicly available on the agencies' websites—if they maintain one.
2. Training: Agencies using body-worn cameras must train their officers so that they clearly understand how to use the technology and the rules governing the retention of body camera data.
3. Compliance: Agencies using body-worn cameras must periodically review their practices to ensure that they are complying with the law and their written policies.
4. Data Retention: In general, all body-worn camera data must be retained for at least 120 days after it was recorded. If the video or data records an encounter that results in death/physical injury, a custodial arrest, a search during an authorized temporary questioning, or a law enforcement officer's use of force, it must then be retained until the disposition of any investigation, case, or complaint. A longer retention period may also be directed by a law enforcement officer, an agency, a police and fire commission, a prosecutor, a defendant, or a court that determines that the data have evidentiary value in a criminal prosecution.
5. Release of Body Camera Data: In general, body-worn camera data are accessible under the Open Records Law—subject to certain specified exemptions—such as encounters that depict minors, victims of sensitive crimes, or individuals that have a reasonable expectation of privacy. In those cases, law enforcement agencies will be required to evaluate requests for body camera data using the balancing tests already provided for under the Open Records Law to determine whether the interest in disclosure outweighs any other consideration.
WHAT THE NEW LAW DOESN'T DO:
1. It does not mandate body cameras or how they will be used.
2. It does not provide funding to agencies to support body-worn camera programs.
For more information, please contact WPPA Executive Director Jim Palmer at .