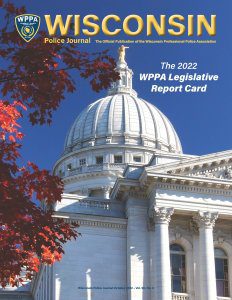 The WPPA Issues Its 2022 Legislative Report Card
Legislators of the Year and Law Enforcement Honor Roll Are Also Named
(MADISON, Wis.) – On October 11, the WPPA released its detailed assessment of state lawmakers and their treatment of law enforcement issues during the 2021-2022 legislative session. The most cumulative legislative scoring methodology of its kind in the country, the WPPA governing board uses this assessment to recognize lawmakers that demonstrated their support for law enforcement. The report card also plays a predominant role in the board's determinations as to which candidates to endorse in state elections.
WPPA Legislators of the Year
In recognition for earning the highest legislative report card scores in the 2021-2022 session, André Jacque (R-DePere) and Van Wanggaard (R-Racine) were named the WPPA's Legislators of the Year for the state senate, along with David Steffen (R-Green Bay) and John Spiros (R-Marshfield) in the state assembly.

For earning legislative report card scores in the top one-third of the members in their respective chambers, the WPPA also named the following lawmakers to the 2022 WPPA Law Enforcement Honor Roll:
WISCONSIN STATE SENATE
WANGGAARD, Van (R)
JACQUE, André (R)
DARLING, Alberta (R)
COWLES, Robert (R)
FEYEN, Daniel (R)

TAYLOR, Lena C. (D)
BALLWEG, Joan (R)
WIMBERGER, Eric (R)
MARKLEIN, Howard (R)
NASS, Stephen L. (R)
WISCONSIN STATE ASSEMBLY
STEFFEN, David (R)
SPIROS, John (R)
MOSES, Clint (R)
ARMSTRONG, David (R)
EDMING, James (R)
NOVAK, Todd (R)
KRUG, Scott (R)
BRANDTJEN, Janel (R)
SCHRAA, Michael (R)
DUCHOW, Cindi (R)
MURSAU, Jeffrey (R)
GUNDRUM, Rick (R)
JAMES, Jesse (R)
DITTRICH, Barbara (R)
CALLAHAN, Calvin (R)
ROZAR, Donna (R)

WICHGERS, Chuck (R)
CABRAL-GUEVARA, Rachel (R)
LOUDENBECK, Amy (R)
MILROY, Nick (D)
KURTZ, Tony (R)
KITCHENS, Joel (R)
MACCO, John (R)
MURPHY, Dave (R)
SORTWELL, Shae (R)
THIESFELDT, Jeremy (R)
PETRYK, Warren (R)
SKOWRONSKI, Ken (R)
KNODL, Dan (R)
ZIMMERMAN, Shannon (R)
ALLEN, Scott (R)
TRANEL, Travis (R)
More information about the 2022 WPPA Legislative Report Card can be found in the organization's October issue of The Wisconsin Police Journal (starting on p. 7).